The blue gene is a very interesting thing, to those who take the breeding of the blue Stafford seriously, they will have studied the selection of the bitch and her stud very carefully.
My introduction to a blue Stafford was in Queensland, a very lovely lady named June Cook allowed me to use her dog
Aceblue Dr Who at stud.
One of the things she instilled in my mind was NEVER NEVER BREED BLUE TO BLUE
A practice I still adhere too.
However with many years of knowledge as the knowledge of the family treed in Pennyflower pedigrees I feel safe in being able to do so in rare circumstances.
My interest in colour has led me on a very interesting path in the study on the blue gene and its various types.
This has reaffirmed for me that BLUE SHOULD NEVER BE BRED TO BLUE if a good colour is to be produced.
Thus ensuring that the blue Stafford is not lost from breed again.
Some will say a blue stafford will never win at shows.
A good stafford is not just a colour.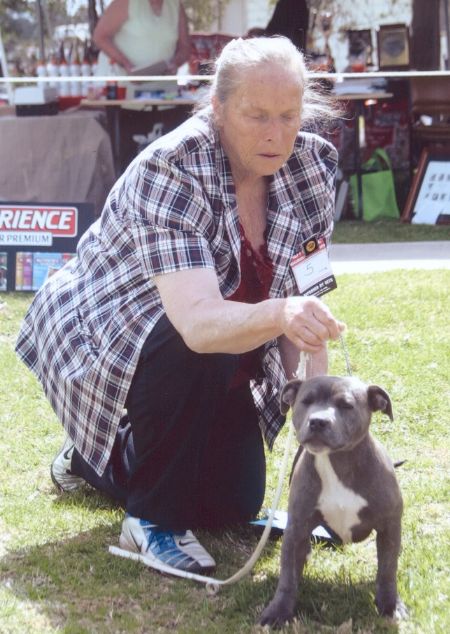 Pennyflower Gainsborough
Baby In Show NSW Stafford Show 10/10/2004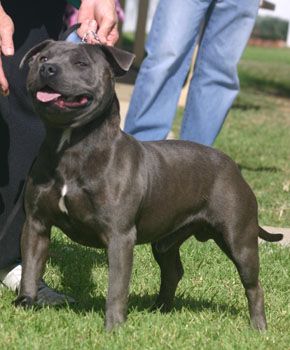 Pennyflower Magic Puddin
Best Opposite Puppy NSW Stafford Show 26/3/05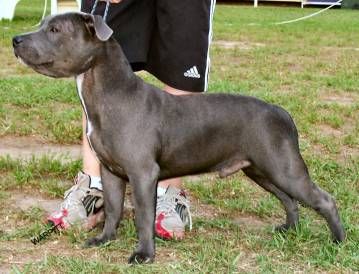 Pennyflower Jakatazjasper
3rd Minor Puppy dog NSW Stafford Show 26/3/07
These are a very few of the wins my blue Staffords have had over the years.

So, you want to buy a blue Stafford. The first question I will ask you is why?
The answer is usually"Because I Like It"
Fair enough, but when I question a little further it is more often that not that the person after a blue is intending to breed with it for the purposes of making what seems to be easy money.
Firstly breeding ANYTHING, NO MATTER WHAT, is not easy if it is done properly.

If you are wanting to buy a blue, my advice is to do it very carefully, if you have not done so read my page "BUYING A PUPPY".
Then there is the question of colour I have noticed that many of the blue to blue breeders advertise "all puppies are show quality and on main register".
You will need to know why they think their pups are show quality and what main register is.
Quite simply if YOU are not registered there is no point in having a main register pup. If you do not intend to breed, there is no point in having a main register pup.
Limited register is still a full registration, but will not allow the pup to be used for breeding a registered litter,or to be shown.
Some people also charge very large amounts of money for puppies other than blue who "carry the blue gene".
What can I say to this? You intend to spend a lot of money please do it wisely.

If you intend to breed,my advice, do your research.
I did, as have some before me, we are only too willing to share our knowledge with those who have the breed and colour at heart, and who have made an honest effort to understand where it comes from and how to breed it & to improve the colour and the breed.
Just a clue for you there are many other breeds that carry the blue gene, look at some of those to get some insight.
Did you know there is such a thing a a blue doberman?
Blue is no longer a rare colour in staffords but in my opinion the quality still has a long way to go.
Colours that are even more rare in my opinion are a true fawn (not a diluted red), a true tiger brindle.
In my opinion the the price for a blue has become nothing short of rediculous and unless you the purchaser become more discerning about your purchase and intent, we just may lose the colour and quality and maybe the breed,many of us have worked very hard to promote and improve.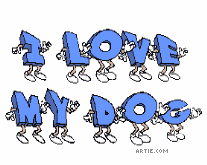 The opinions above are those of Pennyflower Kennels and are intended to assist the breeding and promotion of the breed for its survival and improvement.